Charged with a crime she didn't commit and sentenced to a dangerous prison, Eliza suffers regular beatings from her violent cellmate. Worried she may not survive her sentence, she gets her hands on a shady experimental supplement… and it works better than she could have ever imagined!
Synopsis: Eliza Banks's life is turned upside down after she is wrongly convicted of a crime her boyfriend committed. Forced to endure abuse on a constant basis by her aggressive cellmate, Eliza makes a desperate deal to turn her situation around…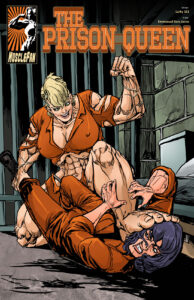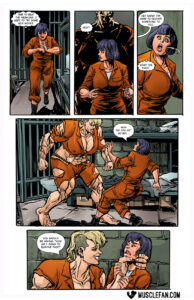 Written By: Larky 101
Artwork By: Emmanuel Xerx Javier
Tags: female muscle, muscle growth, height increase, feats of strength, clothes ripping, revenge, science
Pages: 10 + 1 cover
Issue Release Date: May 10th, 2022
Issue Link: The Prison Queen
To download this comic and all of our other female muscle comics purchase a 1-month membership to Muscle Fan!
ALSO: